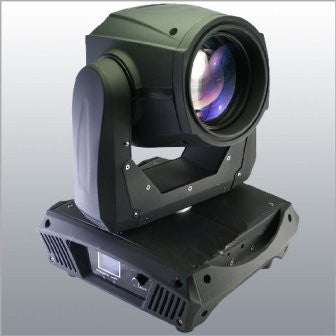 ARTFOX Beam 5R 200w
ArtFox Beam 5R 200w
 is used more and more in stage, because it is fast movement, no noise and bright beam. ArtFox Beam 5R 200w let the stage shockable and dynamic.
Features:
1. Unique design on optical, on housing, beam 200w
2. Philips 5R lamp with electronic ballast
3. Unique 18ch operation
4. Color wheel with 14 colors + open,
5. Gobo wheel with 17 fixed gobos + open, High speed shake effect
6. 8-facet rotating prism, Frost filter, Mechanical shutter and adjustable speed strobe effect, Mechanical dimmer
Specifications:
Power: 220V/50~60Hz (110V version is available upon request.)
Power consumption: 280W
Lamp: PHILIPS 5R Lamp , Or YODN R5 , 198w, 8000K, 7950lm, over 2,000 hours (Discharge lamp with a short arc burner in a reflector system)
Motors:15 step motors
Channels: 18ch
Inputs: DMX512
Pan/Tilt: 540°/270°
Resolution: Pan = 2.11°, Pan Fine = 0.008°, Tilt = 0.98°, Tilt Fine =0.004°
IP rating: IP20
Cooling: Forced ventilation with axial fans.
MEAS:16.5*45*59CM
N.W: 18Kg
OPTICS
: Unique copyright own HQ optical group (patent pending), 
Zoom
: from 0 to 4.1°, electronic focus
COLOR SYSTEM
: Interchangeable color wheel with 14 colors + open
EFFECTS SECTION
: Gobo wheel with 17 fixed gobos + open, High speed shake effect,8-facet rotating prism, Frost filter, Mechanical shutter and adjustable speed strobe effect,Mechanical dimmer