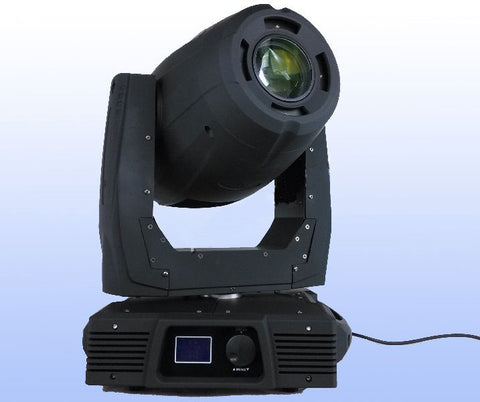 ArtFox 15R Spot/Wash/Beam 3-in-1
FEATURES
1. Spot: the gobo is the same as Martin, It is replaceable, so you are able to use Martin gobo to 15R fixtures.
2. Beam: The zoom is from 8-60 degree, any degress you wanna, and amazing fast Iris,fast than Clay Paky.
3. Wash: CMY + color wheel + frost 
4.Unique-design design, light weight is only 21kg, easy to install and transport
5. Super brightness, 10-20% more brightness than traditional HMI 1200w, 
6. Excellent 3-phase motor movement,8/16 bit movement
Specifications: 
Voltage: 120-240V/50~60Hz (110V version is available upon request.)
Power consumption: 400-480W
Lamp: 15R or 17R, Osram 330W, lifespan is 1500 hours, 8000k, 
over 1,500 hours (Discharge lamp with a short arc burner in a reflector system), Or YODN 17R 350W for option.
Optical: 
High light output: Over 10,5000 lux @ 15m
Lens: Anti-reflective coated (Glass)
Control: 
Channels: 24ch or 32ch for optional 
Control model: DMX, stand-alone, master/slave, sound activated mode
3-pin DMX and 5-pin DMX are available, Neutrik Powercon is acceptable.
Movement: 
3-phase motor, 
Motors:15 step motors
Pan/Tilt: 540°/270°
Resolution: Pan = 2.11°, Pan Fine = 0.008°, Tilt = 0.98°, Tilt Fine =0.004°
Function: 
Easy Replaceable Rotating Gobo: 8 rotation gobos wheel + Open, the same size as Martin, Static Gobo: 14 fixed gobo + Open, (SPOT Function)
from 8-60 degree, any beam angle is available (Beam Function)
CMY Color mixing system is available , Color: 6 colors wheel + open, (WASH)
Prism: 3 faced rotation Prism + 16 Prism Marcos 
Dimmer: 0-100% mechanical
Iris: Motorize Iris, Amazing Fast Iris
Strobe: Variable speed shutter/ strobe
Focus: Motorize Focus,
Frost + Gobo Shake+ Lamp on & offer by DMX
Body: 
Structures: Anti-fire plastic + extruded aluminum 
IP rating: IP20
Cooling: Forced ventilation with axial fans.
MEAS:40.8*42.0*54.8CM
N.W: 21.5Kg
DMX CHANNEL LIST:
CH1: Pan Movement
CH2: Pan Fine
CH3: Tilt Movement
CH4: Tilt Fine
CH5: Pan/Tilt Speed
CH6: Strobe
CH7: Dimmer
CH8: Iris
CH9: Color wheel 1
CH10: Static gobo 1
CH11: Rotating Gobo 2
CH12: Gobo rotation
CH13: PrIsm
CH14: Prsim Rotation
CH15: Focus
CH16: Zoom
CH17: Frost
CH18: C
Ch19: M
CH20: Y
Ch21: CMY speed adjust
CH22: Built-in program, marcos
CH23: Lamp on/off
CH24: Reset