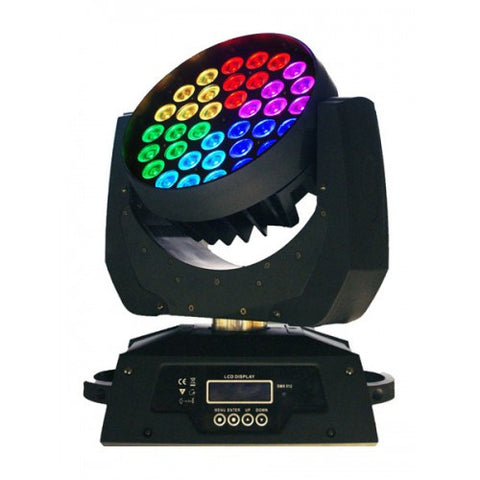 Alpha Pixel wash 36
The 
Alpha Pixel Wash 36 features 36 x 10-Watt Edison ® RGBW QUAD-COLOR
 (Red/Green/Blue/White) LED's which offer extreme output and exceptional color mixing.
Features:
1. The QUAD-COLOR LEDs are divided into 6 separate 6-LED segments and are addressable together or individually for absolutely stunning pixel-type effects. 
2. The Alpha Pixel Wash 36 with features like LED shutter, LED dimming, LED rainbow effects, macros effects, strobe effects, and pulse effects. 
3. 14 or 39 DMX channels switchable from the operation menu, DMX512, master-slave and sound activated controllable or auto operation.
Spec:
1. Full RGBW Color Mixing or Stunning 6-segment RGBW color mixing with chase/graphics capabilities
2. 14 or 39-channel DMX LED moving yoke
3. Movement; Pan: 540º/630º Tilt: 270º, 16 bit,Pan/Tilt Invert
4. Full RGBW Color Mixing or tunning 6-segment RGBW color mixing with chase/graphics capabilities
5. Function: Variable electronic strobe, variable electronic dimmer (0-100%), Remote fixture reset
6. Model: Multiple built-in color macros, master/slave, stand-alone, sound activate
7. Voltage: AC110-240v, 50/60hz
8. Power consumption: 415W
9.LED Source:: 36x 10-Watt (4*2.5w) Edison RGBW "Quad-Color" LEDs, >50,000 hour life expectancy
10. Beam Angel: 15, 25, 45 degree for option, the stander is 25 degree, Luminous Intensity: 56,500 (full white) lux/1m,Lux: 56,500 @ 1m, 10,000 @ 5m
11. Size: 11 x8 x15 inches (278 x 202 x 380 mm) Net.Weight: 20.65 lbs (9.4 kg)